Post by Blaine on Jan 29, 2020 22:08:50 GMT -7
Looks like Ghislain has been busy making updates to 'Realms Of Quest 5' again.
Hello Everyone,
After version 1.10 was released, I continued to make quite a few changes, bug fixes, quality-of-life improvements for the user interface, graphic revisions and text corrections. But now it's been a few weeks since I've made any changes, so I would consider version 1.20 to be completed.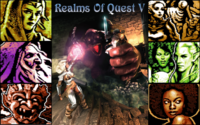 *********************************************************************
Revision 1.20 changes:
-------------------------------
-Added images to death slideshow sequence
-Added 2 images for the "Dark Times" sequence
-Added digitized map to "Castle Rivaria" sequence
-Added additional images to "Civil War" sequence
-Made the in-game Search Tablet chart easier to read (to match what appears on page 34 of the manual)
-Changed "Acknowledgements" to "About This Game" to show a slideshow sequence about the features. Acknowledgements are listed at the end of the sequence.
-The Allies menu allows you to view information about your companions directly from here
-You can choose to view "alignment-sex-race-class" with runes symbols or 2-letter abbreviations
-The number keys can be used to switch the player that you are currently looking at with the View command.
-View Pic allows you to select additional player portraits to view when you are under this command
-Exit keys can be used to go from "menu mode" to "movement mode"
-A "Join" symbol appears next to the player when they have an ally.
-The number of files that are loaded when the game boots have been reduced
Revision 1.10 changes:
-------------------------------
-Lady Carmilla Bane's portion of the tablet is now located in the centre. This makes more sense from an aesthetic perspective.
-The village leaders now give you tangible clues on how to succeed in the game (instead of them saying "We saw orcs marauding in Samunda!" which is random and meaningless, they will say something quite useful like "Protection from Evil will raise the armor of your entire party during battle!")
-3 magic spells have been modified (for the sake of game balance)
-There were minor spelling and grammatical errors that needed to be corrected.
-Several graphical slideshow sequences have been added to the "History And Lore" section of the main menu. <- I found that I had a lot of free space across 4 disks after I implemented compression, so I decided to make use of it.
*********************************************************************
A list of changes are also listed on page 51 of the revised edition of the manual (PDF is attached in the emulator bundle -- REALMS_QUEST_5.rar).
To install, you can just download the .rar file, un-rar it somewhere on your Windows machine and then you can go inside of it and double click on STARTGAME.bat and the game+emulator will be launched for you. There's also a JPG of the game world map and the aforementioned PDF of the manual as well.
As with 1.10, rev. 1.20 is compatible with the previous savegame files (saveg1 through saveg4) and it willautomatically convert them. The game program files are located in the VICE\000GAME folder in the bundle. There's also a folder that contains the digital images of the floppy disks as well (for D64 and D81).
Online video reviews of the game can be seen here:
Robin 8 Bit Show And Tell:
www.youtube.com/watch?v=PUsYNwISNNs
Chickhead Chronicles:
www.youtube.com/watch?v=-96vLn_SNzY
8 Bit Guy:
www.youtube.com/watch?v=nIKKuyGoqwI&fbclid
Thank you!
Thank you Ghislain for your continuing work.
.