Post by Blaine on Apr 6, 2020 7:46:26 GMT -7
A new documentary from the folks that made 'The Commodore Story', looks like fundraising is well underway and now a contest for a new Checkmate A1500 case.
AMIGA 2020 CHECKMATE COMPETITION
STRETCH GOALS UNLOCKED
At the time of writing we are very close to UNLOCKING 30 minutes of EXTRAS and to help make things more interesting during the lockdown we have reduced and combined some of the stretch goals to get them SMASHEDquicker so we can give all backers more. Also we have a competition to win a Checkmate A1500 Plus Amiga Cases for A500, A1200 and A600 with Keyboard Case.
More competitions and exiting collaborations will be announced later...
£15,000 UNLOCKED - Close Captions / Subtitles
£18,000 UNLOCKED - AMIGA 2020 Sticker
£19,000 UNLOCKED - Upgrade to 4K download for documentaries and features
£20,000 UNLOCKED - Behind The Scenes with the Vampire Apollo Team
£21,000 UNLOCKED - Behind the Scenes with A-EON - Next Generation Developments
SOON TO BE UNLOCKED...
£22,000 Over 30 minutes of EXTRAS including interviews with Amiga hardware / software developers
£22,500 Special Feature Amiga Evolution - A Brief History PLUS Special Feature Commodore Evolution - A Brief History
COMPETITION - BE IN IT TO WIN IT!!!
ALL BACKERS WILL BE PUT INTO A DRAW TO WIN A Checkmate A1500 Plus and keyboard case
Checkmate A1500 Plus - < span class="bold" style="margin: 0px; padding: 0px; border: 0px; font-family: inherit; font-style: inherit; font-variant-caps: inherit; font-weight: 700; font-stretch: inherit; line-height: inherit; vertical-align: baseline; box-sizing: inherit;">Amiga Cases - A500, A1200 and A600
Our thanks to Steve Jones for offering this great prize.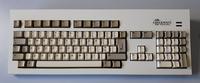 The new case is designed as an homage to the beauty and power of the Amiga 3000 and has the optional keyboard garage like the original Amiga 1000. The modular design is capable of building a highly powerful, True Amiga, based on the A500, A600 and A1200 motherboards with all of the extras that are available for these amazing computer motherboards like the Vampire accelerator/24bit graphics upgrade.
More info -
www.checkmate1500plus.com
www.facebook.com/groups/checkmate1500plus
Winner will be drawn at random and announced after the campaign has finished, delivery time to be arranged.
Steve and the WavemStudios team
I really enjoyed The Commodore Story, I think I might chip in a little for this one.